Babylon Village Arts Council is proud to present the Rotational Artist at Sterling Bank located at 180 West Main Street featuring BVAC artist members for a month long exhibit.
Bernice looking through a glass.
Bernice Bleja Rausch is the Babylon Village Arts Council featured artist for March. Her work will be on view at Webster Bank on Main Street. Rausch is an artist recognized by her peers, having had a painting shown at the Society of Illustrators. Originally from Brooklyn, she graduated from Parsons School of Design in New York City with a major in Illustration. Through her career Bernice has illustrated for magazines including National Review, drew technical drawings and layouts for catalogs, and created slide presentations for Chase Manhattan Bank and other corporations. Bernice is presently focusing on paintings on canvas in acrylic, creating landscapes, figures, animals, portraits and flowers. Her work has been featured at the Amityville, Babylon, Copiague and Deer Park Libraries. Also at the Firefly Gallery in Northport and Islip Arts Council Gallery in Bayshore.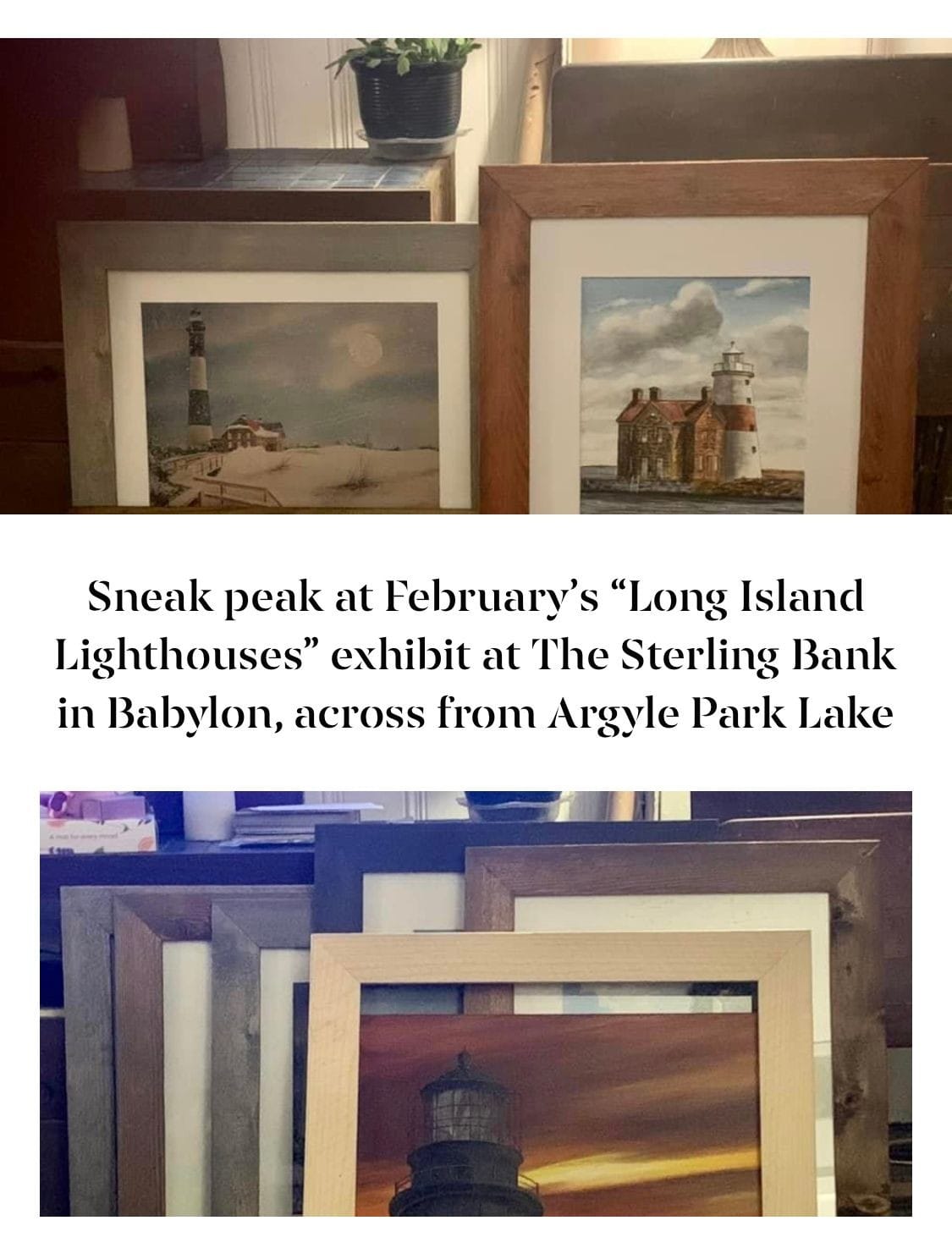 Bill Kuchler is the BVAC Rotational Artist for February at Sterling Bank. Kuchler is a Long Island-based fine artist specializing in realistic watercolor and acrylic paintings. From barns to bridges to lighthouses and coastal beaches, His body of work is extensive and his paintings are often considered snapshots of rural life. He is inspired by the places that he has visited including Pennsylvania, Upstate New York, Connecticut and Vermont. One of his main sources of inspiration is the beauty of Long Island, with his paintings capturing the iconic imagery so familiar to those who call Long Island home.
Melissa Maiello - Summer Days at Robert Moses
September Artist
Artist/Art Educator
Melissa Maiello is an artist and art educator living and working in Long Island, New York. Maiello received a B.A. in Art Education from Adelphi University. While pursuing her undergraduate degree, Maiello studied art and art history internationally at S.A.C.I Florence in Italy. She also acquired an M.S. in Special Education from Dowling College and her MFA at Long Island University. Maiello's primary medium is charcoal, however she is also an active photographer, exploring different environments in an effort to document her surroundings. She has shown her work in local galleries, libraries and art fairs throughout New York.
May Artist
Freelance Artist
LIsa Samperi, local freelance artisit. She uses oils to paint portraits of people and pets from favorite photos. Lisa also enjoys doing landscapes, seascapes and cityscapes. "The use of oils conveys the illusion of light and atmosphere in my paintings. The deep rich and vibrant colors in oil give me full freedom to capture the beauty of the subjects I paint." stated Lisa Samoperi. As a retired public school art teacher who taught all grades for thirty years, she spread her love of art to many.
April Artist
Painter, Printmaker and Art Teacher
Shawn Uttenforfer is a painter, printmaker and art teacher at Garden City HS. I am an artist whose painting style is both brushwork yet sensitive portrayal of the emotion that capture the human experience. In printing the human experience is captured more simply and graphic.